Peak sales times for online sellers on Black Friday [infographic]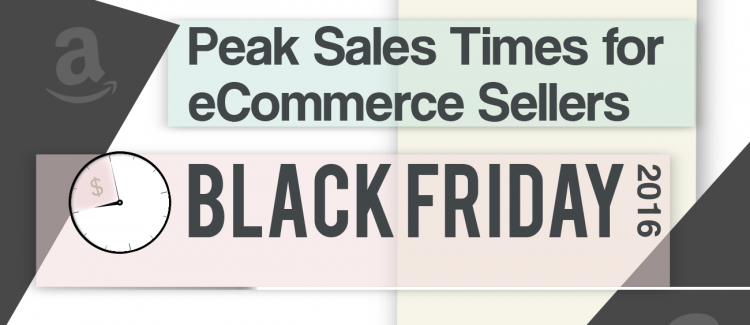 xSellco conducted research on the peak sales times for online sellers on Black Friday weekend, and now we're ready to share the intel. Using xSellco insights, Amazon sellers can predict the busiest times for orders coming up to the sales event.
Know when to expect a surge in orders and customer support queries. Schedule your support team and external suppliers, for inventory and fulfilment, around the busiest times. Optimize your pricing strategy to target rivals at the right time, to gain higher profits.
Amazon Globally
When researching the busiest shopping times on Black Friday weekend in 2015, we found that on global Amazon marketplaces, sales increased by 320 percent on Black Friday at the peak sales times between 9am and 12pm. On Cyber Monday shoppers rushed in at the start of the day, with peak sales from 9am to 12pm. Our data shows that there was also a huge surge in sales for last-minute impulse shoppers between 7pm and 9pm.
Amazon US
The main shopping day for US sellers was Cyber Monday. Sales peaked at 11am and then again at 9pm when shoppers rushed in before the sales closed.
Amazon UK
On Amazon UK, Black Friday was the highlight for shoppers. Sellers experienced a sustained 14-hour sales peak over the entire day. Sellers on Amazon UK should keep an eye out for a high volume of purchases on Sunday, and then again on Cyber Monday at the end of the day.
Amazon Germany
Black Friday in Germany was a near no-show, since a comparative Friday experiences very slow sales. However Sunday and Cyber Monday saw a huge increase in the volume of sales, particularly between 6pm and 9pm.
The infographic includes data on sales peaks for the largest marketplaces:
Amazon Globally
Amazon US
Amazon UK
Amazon Germany
Download our infographic 'Peak sales times for online sellers on Black Friday'. Share the insights with your team and help prepare them for an increase in sales and support on Black Friday through to Cyber Monday.
When you can predict the busiest shopping times, you can be better informed as to when your support teams will start seeing the growth in queries and prepare the team in advance.
All times are localized to the marketplaces, and US times are in EST.
---
Discover peaks sales times for online sellers on Black Friday
---