If you're an online seller of quality products, you undoubtedly already know the importance of getting in front of a large audience of potential customers. Yet, with so many ecommerce marketplace options available today, it's difficult to know which is the right one for your product.
That's why Walmart has created the Walmart Marketplace. It's a one-stop-shop featuring the nation's best products and most trustworthy brands and selling on Walmart Marketplace provides an incredible opportunity for you to grow your business by partnering with one of the world's most trusted retail brands.
Getting to Know Walmart Marketplace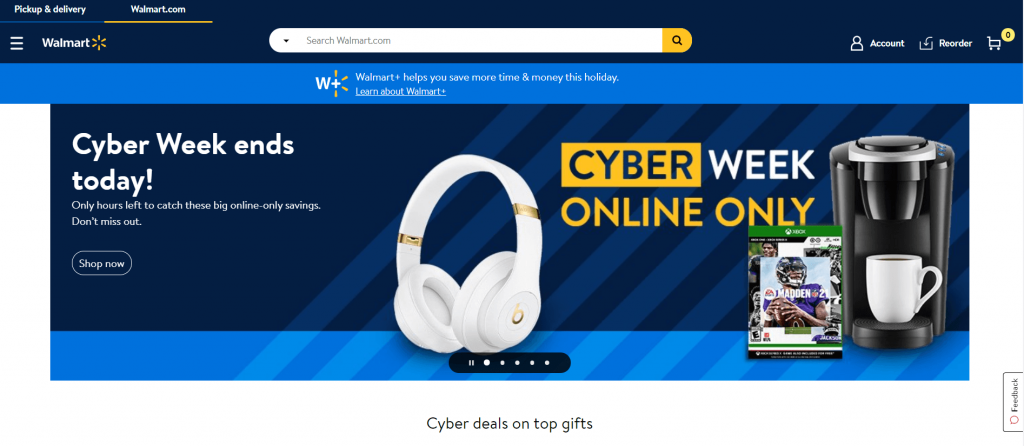 With more than 36,000 retailers and 52 million product SKUs, Walmart Marketplace offers consumers a comprehensive, quality shopping experience. Owned by Walmart, one of the world's largest and most popular retailers, Walmart Marketplace offers third-party sellers just like you, the chance to leverage the marketplace by having your listings included on walmart.com. That's quite a coup!
Given that ecommerce sales are projected to account for 17.5% of all global retail sales in the coming year, there's never been a better time to get on board as a third-party seller with Walmart Marketplace.
Joining Walmart Marketplace as a Seller
Over 300 million unique online visitors browse Walmart Marketplace each month, so it's quite an opportunity. Becoming an approved third-party seller and listing your products on Walmart Marketplace gives you the chance to showcase your brand to a broad national consumer audience while driving sales.
But joining Walmart Marketplace as a seller offers much more than just visibility. Other benefits include:
The opportunity to build your brand
Help familiarize shoppers with your brand within a professional retail environment
Build credibility and trust
No Monthly Fees
Unlike other ecommerce marketplaces, Walmart Marketplace does not charge you a fee to list your products. There are no monthly fees or variable closing fees. This means you can earn more from the sales of your products. And fewer costs mean higher overall sales margins.
Transactions are Fast and Secure
Because all sales transactions made in your online store are processed through Walmart, you'll know you're in safe hands. The backend is processed seamlessly thanks to Walmart's powerful technology and, as the seller, you're paid consistently every other week with referral fees automatically deducted from each transaction.
Less Competition Compared to Other Ecommerce Platforms
Because Walmart Marketplace has strict vetting standards and chooses only the highest quality sellers to work with, there's less competition among sellers to reach potential customers.
In fact, only 10% of all online sellers sell with Walmart Marketplace. That means you'll automatically benefit from more visibility for your brand. When you're approved to sell on Walmart Marketplace, your customers will know that they can trust the quality and service your brand offers.
No Inventory Limitations
Once you're an approved seller, Walmart Marketplace doesn't limit how much of your inventory you're able to list on their website. This means you can list your entire catalog, reaching many more shoppers by fulfilling multiple product categories.
Free Two-Day Shipping
Walmart's unique two-day shipping program means that shoppers get their products quickly, with no extra fee required. This is in contrast to other ecommerce competitors who charge customers a subscription fee for faster shipping and prioritize sellers who can ship more quickly.
Because all Walmart Marketplace sellers participate in its two-day shipping program, this benefits you as the seller because it means there's no need to compete with other vendors over shipping, which can lead to increased conversions.
Becoming Approved with Walmart Marketplace
This all sounds good, right? But before you can begin selling your products on Walmart Marketplace, you need to take a few simple steps for your business to become an approved vendor.
Because Walmart only partners with high-quality, trusted sellers, the application process is an opportunity to define your brand and showcase why it will make an ideal partner for Walmart Marketplace.
Fortunately, the Walmart Marketplace approvals process is thorough yet pretty speedy. To become approved, you must first go through an application process which typically takes about 10-15 minutes to complete.
You'll need to provide the following documentation:
US business tax ID
W9 or W8 and EIN verification letter from the Department of Treasury
US business address
Planned integration channels and methods for your product catalog
Primary product categories and other related information (i.e. catalog size, etc.)
Once you submit your application, Walmart will review and assess your vendor profile, a process that usually takes two weeks to complete. Once it has been approved, the final step in the process is to sign a Retailer Agreement with Walmart and then you can begin the onboarding process.
That's pretty straightforward and simple, especially given all the benefits your business stands to gain from selling on Walmart Marketplace.
You've Been Approved as a Third-Party Seller. Now What?
Once you've been approved by Walmart Marketplace as a third-party seller, it's time to get started by looking at some best practice tips that will help you make the most of the opportunity to list your products with walmart.com. Following a few simple steps can make a massive difference to how your brand is perceived — and how many sales you're able to generate.
This is where Walmart's unique algorithm comes into play. The algorithm determines which products rank highest in the search results on the Walmart Marketplace ecommerce platform, depending on the keywords and search terms a user enters.
Ensuring that your listing is created in a way that best supports your brand within the algorithm is known as search engine optimization (SEO). It's essential to understand how SEO works and how to best approach it when it comes to developing your ecommerce listing so that it supports the algorithm. Your SEO strategy can ultimately make the difference between your product being added to shopping baskets or disappearing into obscurity.
While Walmart is a little secretive about how its algorithms work, there are some tips available that will help your listing work in harmony with Walmart's algorithm, giving you the best chance of being noticed by potential customers browsing the marketplace.
How to Optimize Your Walmart Marketplace Listings
Walmart actually offers a lot of useful guidance around how to improve your product listing quality on Walmart Marketplace, so here are six key pieces of advice worth instigating:
1. Use Clear and Concise Product Titles
Your product title should be concise, but not too short.
Each title should be between 50-75 characters, ideally using the following formula:
Brand + Size of Item (if applicable) + Defining Features + Item Name + Style (if applicable) + Pack Count
When creating your product title, it's essential to be mindful of the following:
Include only the product brand. No other information about your company is needed
Avoid special characters such as #, @, +, etc.
Make sure to include product attributes
Do not use the product title to include special offers
Do not use generic marketing jargon such as "top-selling", "best", or "most affordable."
Do not reference other marketplaces (i.e., "As seen on Amazon Marketplace")
2. Use High-Quality Imagery
You'll want to use professionally shot, well-lit, photos of your products. Images that are high-resolution and can be zoomed in on are ideal. Your primary product image should be the front view of the product, and the image background should always be white, with little to no excess background space.
You may also wish to include rich content, such as interactive tours or review of the product. Taking the time to create well-designed, pleasing images will go a long way towards guaranteeing a polished, professional listing.
3. Include Key Product Features
Including specific product details in your listing can help attract customers in search of particular product features. To ensure that you're using the right descriptions in the right places, you'll want to craft several product feature descriptions, including:
The product shelf description. This description is where you should highlight the key takeaways of your product. A good rule of thumb here is to list three to five top advantages of your product, using bullet points if possible. You should also include keywords within the useful product information. Remember to keep your description natural though, as "keyword stuffing" isn't helpful and won't help your product stand out.
The short description. This text sits right below the product shelf description and should be between 500-1000 characters. Here, you should use clear language that draws the reader in while showcasing the product's key benefits. Similar to the product shelf description, the strategic use of keywords is important.
The long description. This description goes into more depth, with a recommended 1000-4000 characters (that's roughly 250-300 words) and includes a unique product description. You can also use this section to list the top 10-30 features and benefits of your product. This should be written in a conversational tone that speaks to your audience and captures shopper attention. This is the part of the listing that allows your brand's "voice" to come through in the text.
4. Select Product Attributes
Product attributes are the product details used to categorize your products on Walmart Marketplace. They are especially helpful within filtered results. Walmart Marketplace provides 24 product categories you can choose from to define your product attributes. Using the relevant product categories and providing accurate product details will help your product's ranking.
5. Be Competitive on Price and Customer Service
In any online marketplace, not only will you compete against other sellers, but there will be times when multiple sellers offer the same product as you. This means that all listings providing the same product will be displayed on one page.
However, only one seller will win the Walmart Buy Box. This is important because winning the Buy Box means that it is your product, not your competitor's, that is added to a customer's shopping cart when the "Add to Cart" button is clicked.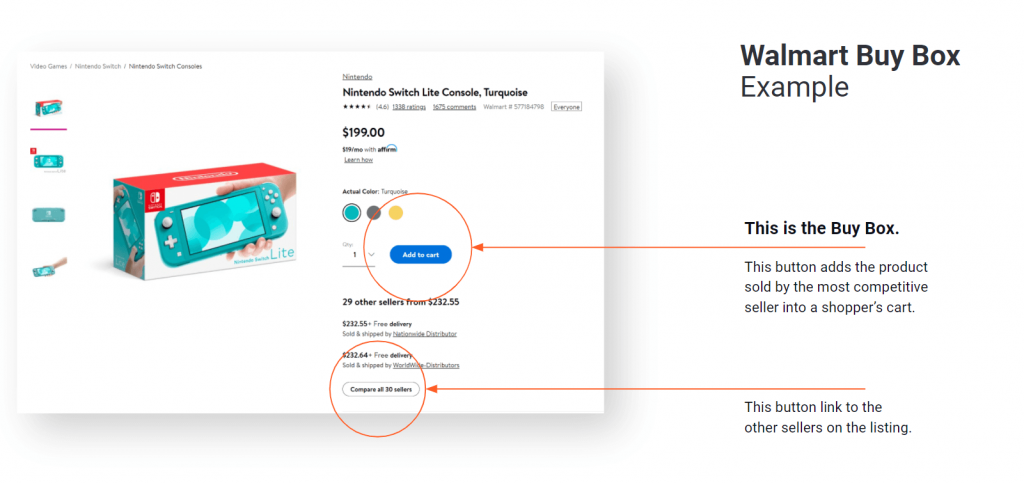 To boost your chances of winning the Buy Box, you'll need to offer competitive pricing on each of your products, ensure your stock is readily available, offer speedy shipping, and excellent customer service. Finally, you'll also want to ensure that your customers provide positive feedback in the form of reviews for other shoppers to see. All of these actions will go a long way to helping you win the Buy Box.
6. Generate Positive Customer Reviews
As mentioned above, positive feedback from your customers in the form of reviews is incredibly important in not only building your credibility as a seller, but also to improve your overall SEO on Walmart Marketplace.
Providing top-notch customer service, including responding to customer questions in a timely manner, shipping quickly and fulfilling orders ahead of schedule, all help to create a positive relationship with your customers.
Once you've satisfied your customers, encourage them to leave a review about their experience with you as a seller. Your ranking will benefit from positive reviews, as will potential shoppers.
Following these simple SEO guidelines will ensure that you are making the most of your opportunity to sell your products on Walmart Marketplace. These helpful best practices will help you improve your product listing and ramp up your search ranking so you can set yourself up for success in your partnership with Walmart.
Final Thoughts
You can create a thriving business with Walmart Marketplace optimization.
Becoming a seller on Walmart Marketplace can drive enormous benefits for your ecommerce business by unlocking new markets, reaching more customers and building better brand awareness for your business.
With so many benefits to being an approved seller with Walmart Marketplace, there's no reason not to apply. And there's never been a better time to become an online seller than right now.
Thousands of online retailers rely on xSellco's ecommerce customer service helpdesk, intelligent feedback software and instant multichannel repricer.