It's no secret that holiday shopping season is a crucial time for retailers—and e-commerce looks set to crush its brick-and-mortar competition this year.
The internet will be the most popular destination for holiday shopping. That's according to an annual survey conducted by Prosper Insights & Analytics for the National Retail Federation, which found that 59 percent of U.S. consumers plan to spend most of their holiday budgets online instead of in stores.
This finding reinforces a recent report from Deloitte, which said that online spending will exceed in-store sales for the first time ever in holiday 2017.
With less than a month to go until Black Friday (Nov. 24) and Cyber Monday (Nov. 27), two of the biggest shopping days of the year, we've taken a look back at last year's data to help online sellers prepare for what 2017 could bring.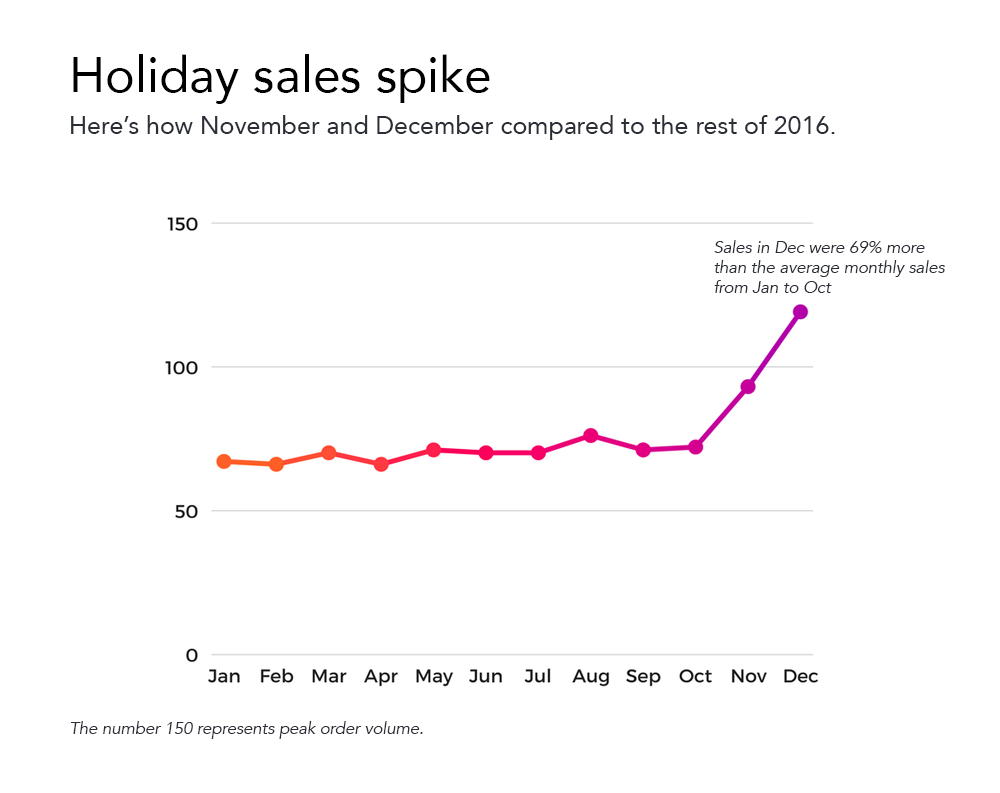 As you can see, xSellco customers experienced a massive increase in orders in November and December compared to the rest of 2016. Indeed, sales in November were 32 percent higher than average from January to October, while December sales were 69 percent more.
That being said, the average shopper spent $37 on Black Friday and $39 on Cyber Monday, which shows that shoppers were on the lookout for bargains. In addition, most orders were placed between 9pm and 10pm on both Black Friday and Cyber Monday, as shoppers rushed to snap up last-minute deals before the sales ended.
---
Related: How to improve seasonal customer service with the right data
---
Changing consumer habits trends to watch out for in 2017
According to Prosper's survey, here's what's attracting shoppers to e-commerce over brick-and-mortar stores:
-Free shipping (94 percent)
-Buy online, pickup in store (49 percent)
-Expedited shipping (19 percent)
-Same-day delivery (12 percent)
Most consumers (59 percent) said they planned to wait until at least November to start their holiday shopping. To that end, online sellers should be prepared for a spike in site traffic come Black Friday, Cyber Monday and beyond as people start to tackle their holiday shopping lists.
It's worth noting that Black Friday 2016 was the first day in retail history that mobile commerce generated more than $1 billion in revenue, according to Adobe, and that smartphones accounted for 41 percent of online retail visits and 21 percent of sales—signalling that mobile shopping can no longer be an afterthought.
Customer experience is key to Q4 success
On major shopping days like Black Friday and Cyber Monday, you can expect a surge of customer support queries.
Get ready for this by scheduling your best people during the busiest periods. Create templates for common questions in advance to speed up responses and fulfill customer expectations—even during peak support times. It's also important to clearly outline your returns policy and delivery information in the resources or FAQ section on your website as well as on your marketplace store.
Start planning your support strategy now to capitalize on your store's surge in traffic and turn bargain-hunting holiday shoppers into year-round customers.
---
Happy customers spend more. Manage your support with xSellco.
Sign up for a 14-day trial today. No credit card needed.
---
Read more from xSellco