Sometimes the best ideas come from the most familiar places.
In the case of Bigjigs Toys, that familiar place was the back garden shed – where their toy business was born.
Today, Bigjigs Toys sells 1800 products in 40 countries around the world, both to retail businesses and directly to consumers.
Sam Ireland, Operations Director of Bigjigs Toys, explains how his parents went from making toys out of floorboards to running an international business.
Starting from scratch
Bigjigs Toys is a family business founded by married teachers, Peter and Liz Ireland. Peter decided to retrain as a Craft, Design and Technology teacher and during non contact time at University he started to make toys for god children and friends children. As demand grew from friends of friends the idea of a business evolved. Peter completed his course but didn't return to teaching. Instead, he started Bigjigs Toys.
"My mother and father started making toys in our shed over 30 years ago", says Sam, "They used to make puzzles from floorboards which they sold at craft fairs and gift shows around the South of England."
Toy-making quickly became the centre of the family's attention, and after one holiday, Peter and Liz made the decision the change the course of their lives.
"My parents used to go to Spain on holiday every summer and sell walking duck puppets on the beach. They came back one summer and decided they were going to make toys full time".
With that decision, Peter and Liz took the first step to building the brand that is now known as Bigjigs Toys.
Building blocks
Peter and Liz started building different toys for an age group that ranged from newborns to seven year-old children.
After their success at craft fairs and gift shows grew, the couple decided to launch their first significant outreach plan in the late eighties – by creating a mail order catalogue. Customers at shows wanted product after the show had finished – there was no internet as such so we posted out a catalogue, waited for the orders and sent them out by courier.
Although it's no longer the most prevalent form of marketing for retail businesses , the mail order catalogue was a big step for the business – as they could reach customers nationally.
"We got to one point where we were sending out half a million mail order catalogues every year", explains Sam, "the phone was continually manned, email was unheard of, we processed cards manually and went to the bank daily!"
Trading Business
After their early successes selling direct to consumer, Bigjigs Toys started getting calls from toy retail outlets. They had found their next opportunity.
"We decided to acquire a company in the UK which already had a small database of trade customers and a bit of history with trade. That allowed us move quickly into the B2B world. From there, we've never looked back."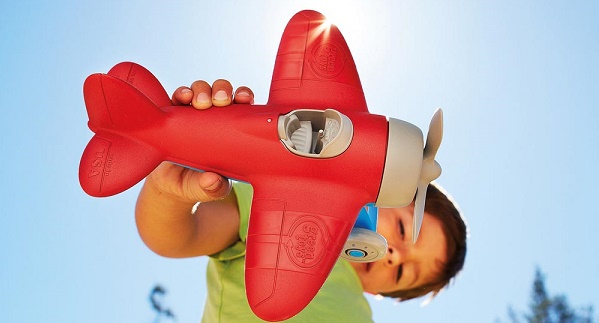 Bigjigs has become a leading toy brand and B2B retailer in the UK, supplying its products to large retailers including Toymaster, John Lewis, Wyevale, Notcutts and independent stores. The company imports over 100 containers a year from a range of different factories around the world and distributes throughout the UK, Europe and beyond.
Web of opportunities
Bigjigs Toys was one of the first UK retailers to test the online environment when it launched its first eCommerce website in the mid-nineties.
Since then, the company's online presence has grown significantly. Its next big venture was to sell on online marketplaces like Amazon and eBay.
"Moving online was a big deal at the time, as not many businesses had done it. Now, moving into the marketplace environment over the last three or four years has been the biggest change in the business. We've evolved considerably and adapted and embraced change as we have moved forward"
But moving onto marketplaces also represented a big change in how Bigjigs Toys deals with resellers of its products.
"We used to have a lot of retailers who sold our products on those marketplace platforms but the listings were poor quality. Presenting a brand on any marketplace throws up considerable challenges. Images needs to be current, product data needs to be accurate and consistent and we had some retailers showing incorrect and misleading information. We had lots of issues with how people were listing product. So we now list all of the product we sell , we can update as and when necessary, change images to reflect exactly what is being sold and importantly be accurate about or product. We now maintain quality listings and represent the brand accurately across all of our selling channels".
Selling on marketplaces has also allowed Bigjigs Toys to experiment with new product quicker and develop a stronger range.
"We have 1800 SKUs and we find that some products that don't sell well in stores, sell better online. Being able to offer access to the full range of our products in one place, we can get sales up and running quicker, and giving products that exposure online as well as in retail gives them a better kickstart in terms of sales, and exposure."
Fast expansion
Bigjigs Toys sells on Bigjigstoys.co.uk, Amazon UK and Europe, eBay in all of Europe and Tesco Direct.
"We now have a big offering that supplies into 30 or 40 countries around the world. We've got distributors in South America, Asia and the Middle East. We've got offices in the US, Holland and Poland, and our headquarters are here in the UK."
Over the next few years our plan is to continue to grow the business into new markets concentrating on in store and online sales to make sure we are getting as much exposure as possible.
Make-or-break season
For a toy maker like Bigjigs Toys, the holiday season is a crucial part of the year.
"Having a business that's very Q4-based, there are a lot of logistical challenges to get our heads around during an 8-week period at the end of the year where it's really make-or-break."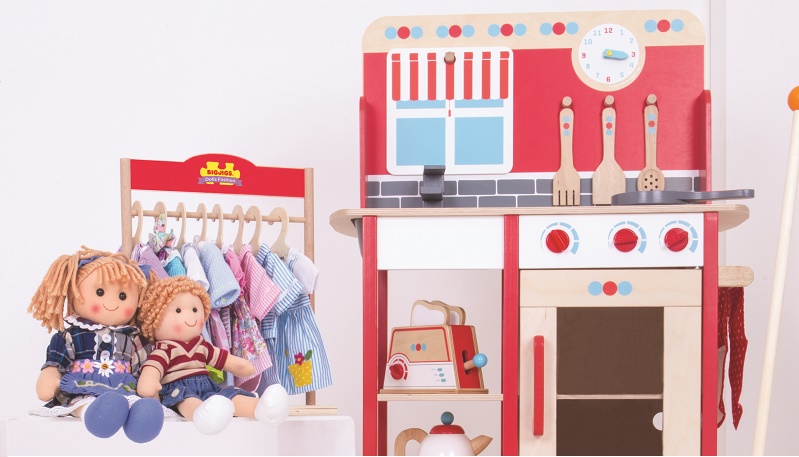 But running a business that's focused on the holiday season in particular adds extra pressure to all parts of the operation.
"Out of the 1800 products we sell, 1200 are our own. That puts a lot of pressure on design and manufacturing. We have staff who are working full time, year round to develop new products. There's a lot of work that goes on in our creative team to make sure we're always developing new products, that we're always on trend, that we're always trying to innovate – this starts months and months before a product comes to market.
Importance of customer service
Customer service is a key part of Bigjigs Toys' strategy – to differentiate itself from competitors.
"Customer service is one of those things we try our very best to excel at", says Sam, "Dealing with a customer efficiently is paramount to our operation. We hope it's something that sets us apart. We try to treat everybody as a special customer – customer service is sales and sales is customer service. If we do not get it right then it has a knock-on effect."
Getting the tools to scale
To grow fast and maintain an efficient business, Sam says automation is crucial to the growth of any business.
"Automation tools help us massively in scaling the business – from a customer service point of view in particular. Over the last 5 years, we have managed to grow the business significantly while not needing more than the same four customer support staff we have had."
As part of making the business efficient, Bigjigs Toys use e-commerce help desk xSellco.
"xSellco has really helped us deal with customer service and the metrics around what we're doing and how we're doing it, enabling us to prioritise which tickets get dealt with quickly and escalate if necessary – making sure we're within SLAs and providing that level of service that we need to".
xSellco has allowed Sam to get a complete view of the company's customer support process.
"We used to manage support in multiple email inboxes that were shared amongst several members of staff, which wasn't an efficient way of doing things. On odd occasions something may have been missed and that was substandard. The service that xSellco offers has allowed us to be a much more efficient operation."
Sam explains that the help desk has also helped his team to better understand their customer support strengths and weaknesses and where they can make improvements.
"Now we have accountability as to who deals with what, to enable us to better train and better educate the staff in how we deal with queries and how we can improve what we're doing."
A winning help desk for eCommerce
Sam admits that he looked at a number of help desk solutions, but xSellco was the best solution he found for his operation.
"We did look at a couple of options. But the fact that xSellco has integrations with all the eCommerce platforms and marketplaces we sell on decided it for us. We couldn't find another acceptable solution that had access to platforms that we needed."
"xSellco also allows us to see query types as a percentage of total queries. This allows us to target high volume areas so that we can find other ways to mitigate them, rather than people having to regularly contact us".
Support and feedback under one roof
Sam identified the need for consistent, high quality reviews on Amazon, and sought a solution to help increase Bigjigs Toys' feedback count and rating.
"We were using another feedback service, but it made sense for us to have customer service and feedback running through one platform . Using xSellco, feedback and customer support are in one queue and everything is dealt with promptly in rotation. It's simply more efficient with all the information being under one roof; in one place."
Sam says having customer support and feedback solicitation in one platform has made xSellco an all-round, unrivalled solution.
"Having all the information in one place is much more efficient. We don't have to move between solutions – it's one holistic approach."
Perfect metrics
Sam says having a streamlined customer support and feedback process has had real benefits for the business.
"Our seller metrics are now perfect. We reply to every message within 24 hours, on Amazon, in particular, we have had occasions where we missed detail because there was no prioritization of messages across those multiple inboxes."
"Our feedback metrics were always been great, but with xSellco, we've only received four negative communication reviews out of 2,500 positive reviews in the last year, which is amazing!"
Advice for sellers
Sam says there are three ingredients to being a successful seller.
"Customer service, delivery and product quality are the three things that are head and shoulders above everything else. Get those three right and customers will keep coming back."
Bigjigs Toys' customer support process is future-proofed with an eCommerce helpdesk that allows Sam and his team to expand into new territories without worrying about how they'll manage an influx of customer support queries.