10 business leaders share their secrets to success
Every business has to start somewhere and yours is no different. In 1994 Jeff Bezos was inspired by the fact that the Internet was growing by 2,400% year on year, so he quit his job as a funds manager in New York and launched a startup from his garage.
Bezos wrote the business plan for Amazon in the passenger seat of his car while his wife drove them to Seattle. They rented a house there, and operated the business from the garage, while holding client meetings in the local Barnes & Noble bookshop. Fast forward 23 years and Bezos has a net worth of $72.5 billion.
It might be a little ambitious to visualize your company as the next Amazon, but it is comforting to know that Bezos started his billion dollar company from nothing. To help you grow your business effectively and become a leader in your industry, we've put together some of the best tips from successful entrepreneurs.
1. Melinda Gates, Co-Chair of the Gates Foundation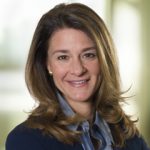 "If you are successful, it is because somewhere, sometime, someone gave you a life or an idea that started you in the right direction."
Before you implement a great idea you need someone to support you, or a team behind you. However exciting or achievable an idea seems, it's nothing if it is not executed. If you're already running a successful company or department, then the chances are that somewhere along the way you were given a chance by someone.
If an employee comes to you with an idea it's important to recognize that they're trusting you, and if their idea is strong then why not show them some support? This might be to the overall benefit of the company, and your colleague will feel more motivated by your support. People don't forget when someone believes in them.
2. Sam Walton, Founder of Walmart:

"Outstanding leaders go out of their way to boost the self-esteem of their personnel. If people believe in themselves, it's amazing what they can accomplish." 

Even though the giant of Walmart, Sam Walton hasn't been around for twenty five years, his wise words still ring true. He believed that leaders should inspire their team and encourage them with positive feedback. Praising members of your team for their achievements will motivate them to work harder. Unsure how to go about this? Why not choose a different staff member each week and make a conscious effort to praise them for a recent achievement? It only takes a minute and it can be very effective.
You can give them positive feedback on anything from an innovative marketing idea, a strong sales performance to providing exceptional support – the bottom line is that they will appreciate it. Doing this will actively boost their self-esteem and over time, your team morale. When your team believe in themselves and what they're trying to accomplish then they will have higher expectations for the team and the company.
3. Jeff Bezos, Founder and CEO of Amazon:
"A brand for a company is like a reputation for a person. You earn reputation by trying to do hard things well."
The reputation of your company is one of the most important things you have. The quality of customer support, and the quality of the product or service that you provide will be the most important factor when you're trying to build up your reputation. Think of how much your personal reputation means to you and how it affects every part of your life – your company reputation is equally important if you want to be successful.
Whatever industry you're in, one thing is for sure – consumers expect instant and personalized customer support. If you're already providing an excellent level of support then you're actively building up a strong reputation. A committed support team will be the difference when it comes to your reputation as it will transform once-off customers into loyal ones. Your reputation for the quality of support you provide will directly affect your sales, so think about investing in support if you need it. Research support training courses for your team, or try out a Help Desk. These resources will ensure that you're one step ahead of your competition.
4. Danae Ringelmann, Co-Founder of Indiegogo:

"As an entrepreneur you have to not only be willing to live with uncertainty and the fallout from mistakes, but you also have to be resilient, learn quickly, let things go and move forward." 
In 2017's competitive environment you have to be tough to survive as an entrepreneur. The ability to adapt to change and know when you need to move on from something that's not working out is always difficult. It takes time for a business to break through the startup phase and get to the next level. Mistakes will inevitably be made, but these will teach you to recognize the right decisions for your company and you.
If you're feeling a little unmotivated and your end goal seems very far away, why not have an ideas session with your team? Where do they see the company going, and what is their vision? Your employees will feel valued by you and they will enjoy helping you regain that motivation. You never know what they might come up with. Many minds are better than one.
5. Laurinda Pang, Executive VP of Level 3 Communications:

"Our culture, employee engagement in particular, is one of the most vital factors in determining long-term growth, sustainability and success. Employees drive the customer experience."
Aside from your customers, your employees are the most important part of your business – they are the foundation of it. Happy employees will be motivated to provide a positive customer experience; this will increase customer loyalty, improve your reputation and have a positive impact on sales.
Are your employees unmotivated? Why not add some inspiration to a regular work day by providing your employees with a free lunch? It's simple, sustainable and effective, and you can be certain that it will put a smile on everyone's face. If they need a long-term incentive, why not increase commission-based sales? Give your employees a reason to want to come into work and win more customers.

6. Tyler Haney, Founder and CEO of Outdoor Voices:
"I've been really thoughtful about identifying the people I most admire and then finding ways to surround myself with them. You definitely run into roadblocks, but I think that's how you really create something new."
Sometimes it's the challenges that you face that will make the decisions you need to make, or where you want to be, clearer. Overcoming these challenges can provide you with a great sense of achievement, but be sure to surround yourself with like-minded people along the way. Who are the business people in your life that you look up to, and what is is about them that you admire? If you want to succeed then it's vital to be around people who will support you, help motivate you and drive you towards your end goal.
Reach out to a business person or a former colleague who you've always admired. Why not ask them for a few minutes of their time? Remember, they've probably been through what you're currently going through, so asking them for some advice could make your challenges much easier. You might even discover the great business mentor you needed, who can help guide you through the tough times.
7. Carly Strife, Co-Founder of Bark Box:
"I took it upon myself to get those experiences outside of the office. This came in the form of volunteering to help friends with their startups."
Sometimes it's just not the right time to make the leap from the corporate world to the startup one. Getting there at your own pace is important. Instead of moving at the wrong time, why not reach out and get involved in different startup projects on the side? This can be a great way to network and to learn from other people's mistakes. When you're ready to make that leap you'll find you have a new network of people who are willing to help you get started.
8. Jack Ma, Founder of Alibaba:

"You should learn from your competitor but never copy. Copy, and you die."
There is great potential for you to learn from your competitors. Study them and discover what you can do differently, but there's no point in copying them because then you're delivering the same product or service to a saturated audience. Instead do something different, and mark yourself out as unique.
Research your competitors, read all their negative reviews and avoid the mistakes they made. What are their customers saying about them and what extra features or benefits are they asking for? Reviews are a great way to tune into a potential market and find out exactly what your target audience are looking for.   
9. Ratmir Timashev, C0-Founder at Veeam:

"If you don't take risks then your company growth will probably be restricted. Why not do your research and aim for a market with a larger growth opportunity?"  
If you're looking to sell in expanding marketplaces, why not try PriceMinister? You'll never know unless you try, and xSellco Fusion's auto-translation tool will mean you can expand to global marketplaces without the cost of hiring multilingual agents.   
10. Marc Benioff, CEO of Salesforce:

"My summers at Apple had taught me that the secret to encouraging creativity and producing the best possible product was to keep people fulfilled and happy."
Inspired employees are productive. If your team believes in your company and what it's trying to achieve then this will translate into the customer experience, product development and every other step along the way. Make sure that you have short-term and long-term incentives in place to encourage the best out of your employees. Don't forget that praising and encouraging your team costs nothing, but it does pay off!  
I hope these business tips are useful. Choose one to implement this week and start building positive momentum that could define your future.