xSellco have become the first software provider to offer native customer support integration with Instagram. Users of eDesk – xSellco's eCommerce customer support software – are now able to interact with Instagram shoppers directly from their inbox, alongside all their other customer interactions.
This addition is a huge boost for sellers looking to support at scale using eDesk, rather than having to log in to multiple platforms to communicate with their customers.
Acknowledging how important Instagram has become to online sellers, this new addition will sit alongside eDesk's already impressive array of native integrations, including Facebook, Twitter and all major shopware and online marketplaces.
Related article: Selling on Instagram: A Channel With Massive Potential
Integrating with Instagram allows eDesk users to comment on their photos quickly and easily, all from the same place. This will help retailers sell more by using the comment section to proactively highlight key product features, as well as simply responding quickly to questions from potential customers.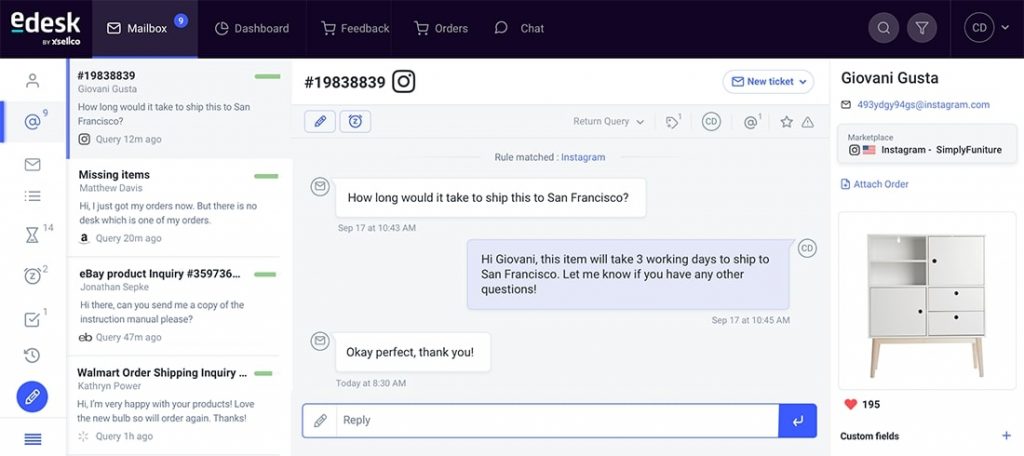 The Instagram integration represents another important milestone in xSellco's mission to help its clients sell more as well as simplifying their customer support.
xSellco CEO, Ray Nolan, is sure that the new integration will make a big difference for eDesk users:
"We've worked hard to get an integration out to our customers as soon as Instagram allowed. It's already a destination of choice for many buyers and we wanted to leverage our platform to make sure sellers could support at scale within eDesk rather than having to use the rather clunky process that existed natively within Instagram."
---
Try a better way to support your customers.
Sign up for a 14-day trial today. No credit card needed.
---