People trust people, not brands, as the saying goes—and the rise of user-generated content in e-commerce is fast outranking all other forms of marketing when it comes to influencing purchase decisions.
User-generated content (UGC) is one of the most useful forms of free marketing that an e-commerce business could ask for: authentic, trustworthy content created by fans and influencers, sharing reviews, images and videos of your product online. 
According to TurnTo Networks, 90 percent of consumers trust online recommendations from friends, while user-generated content is 20 percent more influential to millennials' buying decisions than other media channels.
Social media is an exceptional way to harness the power of UGC—especially Instagram, which had 500 daily active users in September 2017, reinforcing its importance as a marketing tool.
It's clear that UGC can influence conversion rates. Let's look at other reasons why online sellers should embrace it.
Product reviews from customers
According to Nielsen, 66 percent of consumers trust opinions posted online.
As a brand, it's important that you contribute to the online conversation and answer queries on social media and specialist forums. This shows people that their opinions matter and creates a two-way conversation that allows brands to build trust online.
In addition to getting reviews organically, your business can target positive reviews and increase seller ratings on Amazon, eBay and Trustpilot with xSellco Feedback. Our personalized feedback software sends smart, selective requests that can improve your brand rating and boost sales.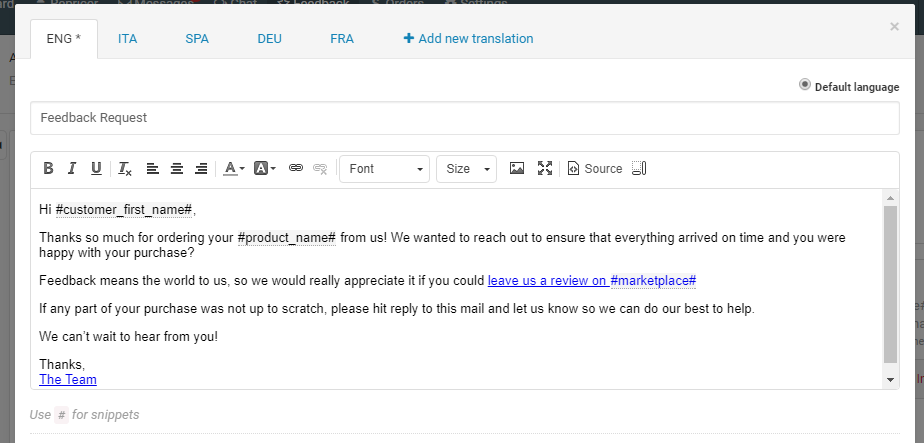 It's critical to understand how seller feedback and product ratings influence buyer behavior, so taking the time to request it will only benefit your business.
User-generated content is a cost-effective way to grow your business
As user-generated content is created by users, businesses don't need to pay for it. This strategy can be considered alongside paid advertising campaigns. Companies can give users the incentive to share content, such as a competition or giveaway. 
Who can forget Tourism Queensland's campaign that encouraged people to apply for a job as a caretaker on a tropical island? The campaign went viral, with 35,000 video applications. The campaign achieved 8.4 million unique website visits and around $368 million in media coverage.

Improves your organic presence
Most shoppers will begin their online journey by researching online. Typically, they look for product reviews, testimonials, video reviews or product demonstrations, along with discussions on forums and social media channels. They're looking for information they can trust.
If there's one thing search engines love, it is fresh and relevant content that provides value to users. How does this help your SEO strategy? Users engaging with your brand online will help to increase traffic to your website and help your local SEO. According to a 2017 SEOMoz survey, the influence of customer reviews on local search rankings compared to other factors was 21.5%, up from 10.8% in 2015. 
Combats negative online publicity
Businesses should be wary of fake reviews and testimonials. But negative reviews should be taken seriously—and user-generated content can be used to tackle bad publicity.
To harness the benefit of negative reviews, you have to watch out for recurring trends throughout. With feedback software like xSellco, you can use the dashboard as a point of reference to oversee all your customer reviews.

Every online business should be aiming to have a mix of positive and negative reviews. The key is to engage with negative reviews to create a positive outcome and show you're interested in what the customer has to say. This shows transparency and reinforces customer trust.
User-generated content is the future
The bottom line is that UGC gives a business a way to pat itself on the back, solve a problem for a customer, or offers a new angle to improve upon—ultimately, it's providing invaluable visibility to your products.
Remember, your business is built on your relationship with your customers—without them, you couldn't exist! Being aware of how to utilize their content is paramount. Plus, no matter how persuasive your paid marketing campaigns are, nothing beats being able to say, "Don't take our word for it. This is what our customers are saying."
If you have any questions about supporting your customers or dealing with their feedback, be sure to contact one of our agents at support@xsellco.com.
---
Get more reviews today with xSellco
            Sign up for a 28-day trial today. No credit card needed.
---
Read more from xSellco: