Amazon's quest for global domination picked up speed last week when the company launched a feature that simplifies shopping for international customers.
Now, consumers around the world have the opportunity to browse and buy over 45 million eligible items through Amazon's Android and iOS apps, along with localized pricing, shipping costs and duty estimates, and have orders shipped to their country from the U.S.
That said, most items on Amazon's U.S. website are already eligible for delivery to over 100 countries outside the States. So what's different about the app's new feature?
As usual, it's all about the experience. When a customer turns on the "international shopping" mode in their app's settings, they will only see products that can be shipped to their location.
"Customers have been asking for a way to easily find and shop only for products available to them," Samir Kumar, vice president of Amazon Exports and Expansion, said in a statement. "We are always innovating on behalf of our customers, and with [this] launch, we are making the shopping experience on mobile devices even better and more convenient for our customers who live outside the U.S."
That's all well and good, but what does it mean for Amazon sellers? Specifically, how can third-party merchants prepare for an influx of support queries from international markets? Let's find out.
Amazon's new feature unzipped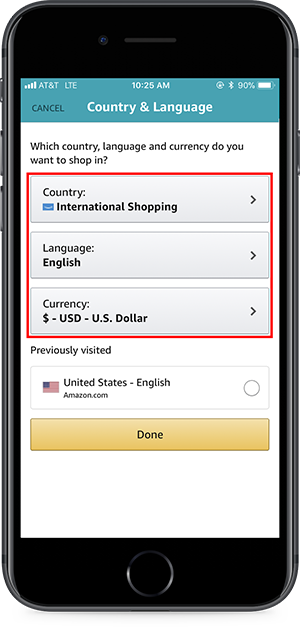 Amazon's international shopping experience currently supports five languages—English, Spanish, simplified Chinese, German and Brazilian Portuguese—and 25 currencies, including the euro, the Brazilian real, the Hong Kong dollar and the Mexican peso, to name just four.
Among the 100-plus countries with access to this feature: Chile, Colombia, Costa Rica, Hong Kong, Indonesia, Malaysia, the Philippines, Peru, Thailand and Uruguay.
And this is only the beginning. Amazon plans to add more languages and currencies later this year.
"Many sellers already have North American accounts, so they are selling in the U.S., Canada and Mexico, but a lot have not yet taken advantage of the EU, China and Japan," shared Phil Masiello, founder and CEO of Hound Dog Digital, a marketing agency specializing in Amazon selling, SEO and PPC.
Though the U.S. is still Amazon's main moneymaker, bringing in over $120 billion in sales revenue in 2017, there's a lot of potential for growth in other regions. Namely, Germany (the company's biggest market outside of the U.S. with nearly $17 billion in sales last year) and Japan ($11.9 billion).
Amazon's new feature makes it easier for merchants to connect to a big chunk of its global audience without needing to sell on each of its marketplaces.
Essentially, it streamlines international sales for sellers, presenting them with the opportunity to expand and reach more consumers.
Selling on Amazon.com but new to the international process? Assuming you've done your research, decided which markets to expand into and chosen your fulfillment method, log in to Seller Central and select which worldwide regions you're willing to ship to get started.
International sellers can now buy from your US site, but how will you support the sale in their language?
If customers have the ability to shop in their own language, they will expect customer service in their native tongue, too. Basically, more international sales could mean more international queries—and your e-commerce business needs to prepare for that.
Here are some points to keep in mind:
#1. Communicate with customers in a foreign language
Amazon's new feature gives consumers the ability to shop in Spanish, simplified Chinese, German and Brazilian Portuguese, in addition to English.
If you don't already offer support in those languages, you could consider hiring support agents who are fluent in them—but a more affordable alternative would be to invest in an e-commerce help desk.
Remember, all customers expect the same level of support, no matter where they're located.
An e-commerce help desk such as xSellco Helpdesk comes with a built-in feature that auto-translates incoming queries from a language you don't speak into one that you do, so you can quickly understand and resolve your customer's issue. Plus, your response will be translated back into the customer's language before you hit send.
This helps you scale your Amazon business and sell to a wider audience by giving your team the ability to communicate in every language.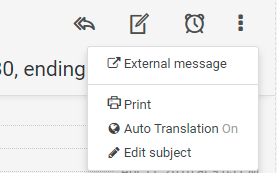 #2. Support all your customers in one place
Whether you're an Amazon seller or a multichannel merchant, you need to organize your inbox to stay productive. Using help desk software will enable you to categorize your tickets into relevant folders and assign queries to specific agents. Not to mention, you can view the order value of every ticket so you can prioritize high-value queries.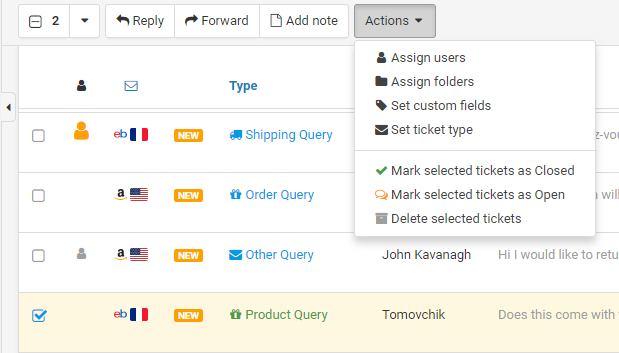 #3. Say the right thing at the right time
It's one thing working out the language barrier, but cultural differences can present a whole other set of issues, particularly when it comes to colloquialisms, etiquette and tone of voice. For instance, while most Germans see customer service as a formal interaction, Americans expect a friendlier approach.
Instead of having this worry each time you deal with a query from an international customer, you can pre-prepare templates in the appropriate language in Helpdesk. Check out the example below: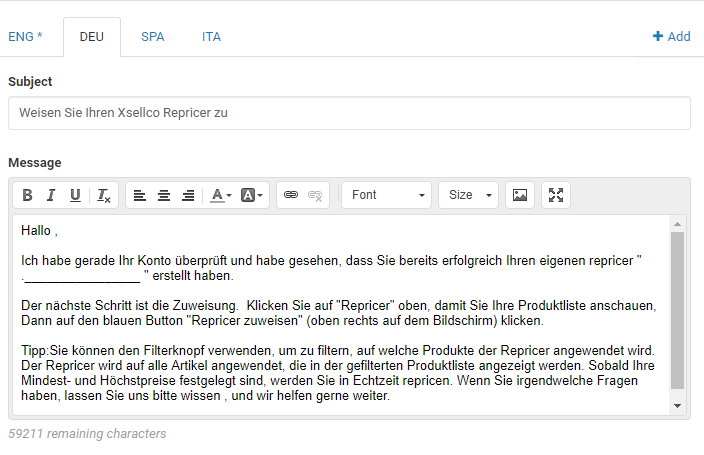 #4. Localize your communication
When you are selling to an international audience, another way to improve your customer support is to use the Snippets feature in xSellco Helpdesk to insert localized information into your messages that's familiar to your buyers.
For example, if you are an apparel or footwear seller on Amazon, it makes sense to quickly localize clothing or shoe sizes.
Other important information: measurements (ie. pounds and gallons in the U.S. versus kilograms and liters in Europe), currency, delivery and local returns.
When responding to a message, simply type '#' and you will see a list of snippets appear. It looks something like this: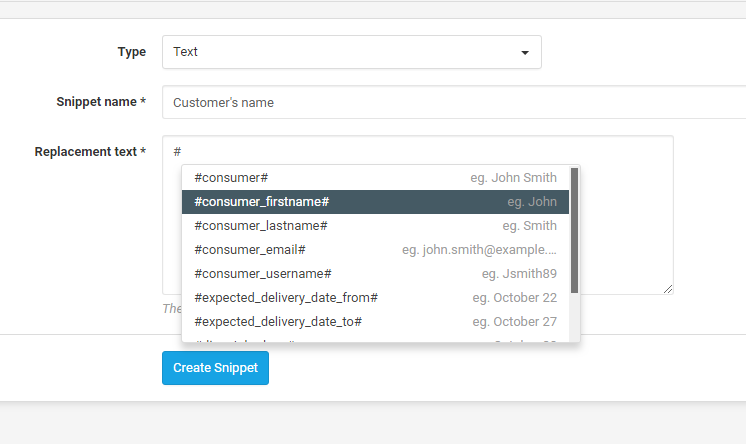 Helpdesk provides standard snippets such as customer name, reference number and address, but you can also create your own ones: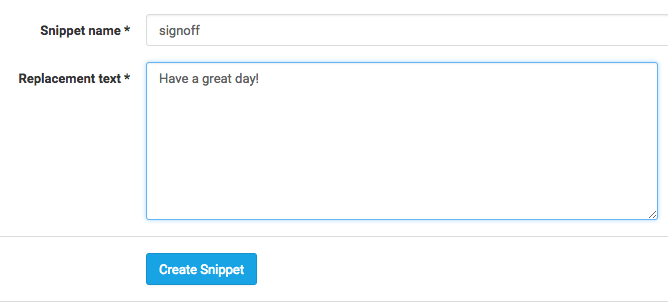 What now?
Research what this feature will mean for your Amazon store, prepare for queries outside of your team's comfort zone and you'll be ready to provide the same excellent experience to all your customers, no matter where they're shopping from.
---
Support all your customers in one place
Sign up for a 14-day trial today. No credit card needed.
---
Read more Amazon tips from xSellco: