What a year 2017 was for e-commerce. Competition was fierce, from fresh personalization tactics, to pairing up with delivery partners to get orders to customers faster and cheaper than ever.
So what's in store for e-commerce over the next 12 months? Strap in and get ready for the rollercoaster ride that 2018 is about to present. Let's take a look at what your online business can aim for.
#1. Omnichannel consistency
Omnichannel is not a strategy, but a behavior that's been growing in significance over the past few years. It's increasingly difficult to convince people to shop in-store, which is a big plus for e-commerce businesses. But while 87 percent of retailers agree to its importance, only 8 percent admit to mastering it.
The question for online sellers is not if they have an omnichannel strategy, but rather are they executing it well. With the way the e-commerce industry is evolving, it's not enough to simply be present on multiple channels—you also need to make those integrations flawless.
Not sure where to begin? Start by making your website responsive to improve the online experience. Do you have a software in place to manage your customer support? Is your website up-to-date? As long as you're constantly trying to make online shopping a seamless process for your customers, you'll be able to keep up your omnichannel consistency.
#2. User-generated content
User-generated content is invaluable to e-commerce businesses. Not only can you receive honest reviews about your product or store, but you can also look at it as free advertising.
With the increasing amount of user-generated content available, there is a tendency for people to extensively research product reviews before they purchase online. In fact, 88 percent of consumers trust online reviews as much as they trust recommendations from their personal contacts.
Whether it's for a competition on social media, or through requesting feedback from happy customers, make sure you put user-generated content on your priority list for 2018. Remember if one of the posts on your business social profile gets multiple likes, re-shares and comments on social media, this will make your content's potential for being SEO-optimized exponentially higher.
#3. Amazon dominates the online customer experience
Amazon's dedication to perfecting the customer experience means the company continues to introduce new and exciting ventures that dominate the industry.
With that being said, it's essential to include Amazon in your 2018 business plan. Why? Fifty-five percent of Americans begin their product searches on Amazon—and these sales represent nearly half of all e-commerce sales in the U.S.
No matter what way we look at it, Amazon has a hold over the entire retail industry, from the launch of Amazon Australia, to its takeover of Whole Foods takeover, even Amazon Key, the  company is coming from all angles
Top area to look at? Based on the emphasis there has been on personalization this year, online sellers should be on the lookout for "Your Voice By Amazon" coming out early in 2018. Voice search is becoming so precise that it's managing to tap into the e-commerce space. Think about the immense convenience if consumers could shop using voice search on your website. This would truly put you well ahead of the game.
#4. Fulfillment options
As e-commerce ramps up, people are expecting things to be delivered faster than ever. Online shoppers are practically counting down the door-to-door time as soon as they place an order. But how do smaller companies keep up with this fast-paced area of the industry?
Firstly, you need to know if you're in a position to provide the amount of fulfillment that is needed for your business, so it's imperative to check out what other options you have. One key factor to look out for with a fulfillment company is if they offer shipping times later in the day. Customers will judge their experience of an online business from when they order down to the packaging it comes it on the day it arrives. The main lesson here: make sure you have every detail down to a tee.
The industry as a whole will have to take on another level of agility to achieve the fast-paced delivery environment that has been set. With the rate that delivery speeds are increasing, every day will be a business day for e-commerce.
#5. Tapping into the Chinese market
Online shopping has been steadily growing in China since 2013, with a notable rise in mobile commerce. Statistically speaking, CNNIC found that mobile internet users in the country totaled 695.3 million last year—a figure that's more than double the U.S. population.
In 2015, China's e-commerce market was estimated to reach $1 trillion. That number is expected to hit $2 trillion by 2019. In short, online business have to jump on this bandwagon—and fast!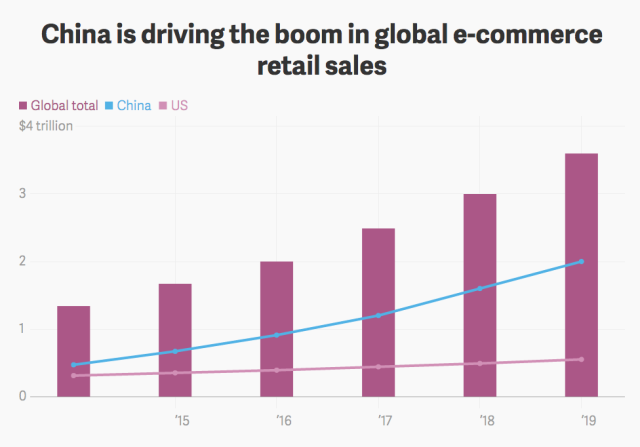 But how does a company prepare for this? By targeting the Chinese market this year, your online business will be in a great position, strategically speaking. You have to immerse yourself in the Chinese market, firstly by localizing your brand. Use an e-commerce help desk that allows you to easily translate messages to prepare you for queries. You should also consider making your website mobile-friendly to suit the astronomical trend of mobile users in China.
#6. Net neutrality is dead: how will that impact e-commerce?
Net neutrality is the principle that you should be able to go wherever you want online and your internet service provider can't play favorites. The U.S. Federal Trade Commission (FTC) recently voted to repeal its net neutrality rules.
As food for thought for online sellers, there is no guarantee that net neutrality will adversely affect the e-commerce industry, but the idea of slight delays could present problems when consumers conduct product searches, which could lead to behavioral changes. Only time will tell.
What's the bottom line?
Online sellers have to prepare themselves for a busy year ahead. Paying close attention to the trends will keep your business competitive in this fast-growing environment. Shying away will only lead to serious setback in customer acquisition.
---
Provide stellar support with the help desk built for e-commerce
Try xSellco free for 14 days. No credit card needed.

---
Read more from xSellco: