How to win the Amazon Buy Box and sell more
What is the Amazon Buy Box?
The Amazon Buy Box is arguably the most important element to you as an Amazon Seller. What is the Amazon Buy Box? It's the area to the right of the product page that contains the 'Add to Cart'(Or 'Add to Basket' in the UK) call to action.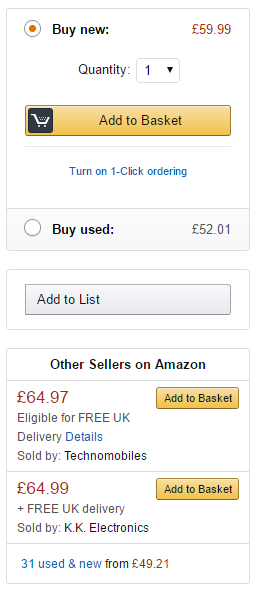 The next question you'll ask is: 'Why is it important? There can often be several sellers competing to make a sale. Using an Amazon Repricer to Win the Buy Box is a tried and tested way to maximize sales.
Amazon has a complex algorithm to determine which seller gets the prime location on the page. All other sellers are relegated to the bottom section. Amazon themselves admit that around 82% of purchases are made through the Buy Box. You'll see an increase in sales if you own the Buy Box for a product.
How to win the Buy Box
Amazon use a complex and secret algorithm to award the Buy Box. They determine which seller offers the best price and customer experience.
It's vital to understand all the known aspects of how it is awarded. Amazon have a strict set of performance standards that seller must uphold. Sellers must track and improve the metrics that are most influential. Sellers who work to improve the customer experience on Amazon will thrive.
The key is to act on the variables you can control by knowing what Amazon expects. You must be on top of performance at all times by monitoring your account health. Performance data exists to direct your actions. Allocate time and resources to the most critical issues.
Important aspects of winning the Amazon Buy Box:

| | | |
| --- | --- | --- |
| Criteria  | Explanation | How to improve |
| Featured Merchant Status | To be Buy Box eligible you need to operate a Professional Seller Account. You need  a proven track record on Amazon. It requires between 3-6 months of selling history, depending on the product category. | Before you start selling get in contact with Amazon's Merchant Services team. Some sellers (based on sales volume) can become featured merchants immediately. Alternatively you need to build a good selling record. |
| Competitive Price | Adjusting your prices to stay competitive gives you the best possible chance to compete and win the Buy Box. Manual repricing can be both complicated and time consuming. It involves constantly checking competitor prices and manually adjusting your own in response. | A repricing tool does this more effectively by automating the process. This ensure you are competitive against every other seller. It's a dynamic pricing solution that constantly reflects the changing marketplace. You'll no longer need to spend valuable time tracking your competitors' prices. React instantly to prive changes or when competitors run out of stock. |
| Customer Feedback Rating | On Amazon, seller reputation and sales performance go hand in hand. Sellers should achieve the highest possible feedback rating and try to minimize negative feedback. That means asking for feedback on dispatched orders and reviewing all negative and neutral feedback. | Politely worded and well timed requests will improve the quality and quantity of your feedback. Positive Feedback can increase your chance of winning the Buy Box. Feedback Count, the total number of reviews is an important measure of your experience in Amazon's eyes. |
| Processing and Shipping Orders | Shipping arrangements are a major concern for buyers. They have the potential to seriously impact seller performance if not managed correctly. When they don't get quick confirmation of shipping arrangements, buyers initiate contact. This has a detrimental effect on your Perfect-Order-Percentage, a critical Amazon Buy Box metric. | Late and untracked shipments are more likely to result in negative feedback or claims. It's important to monitor on-time delivery and valid tracking scores. Tracked orders have 60 percent less defects and 40 percent lower contact rates. Providing valid tracking numbers protects sellers from A-to-Z Guarantee claims. Tracking improve feedback ratings and can qualify sellers for Premium Shipping Options. |
| Customer Support | Timely, high-quality responses to customer inquiries are an important factor in customer satisfaction. Orders with messages responded to within 24 hours receive 50% less negative feedback than those responded to after 24 hours. (Amazon) | Prioritize your responses. Focus on those customer messages that are approaching the 24-hour marketplace SLA cut-off. Make sure that the really difficult queries aren't ignored. Timely responses reduce negative feedback and keep you on the right side of 24-hour response guidelines. |
| Fulfillment Method | Fulfillment choices and channels are a big influence on winning the Amazon Buy Box. Sellers can choose between Fulfilment by Merchant (FBM), Fulfilment By Amazon (FBA) and Seller Fulfilled Prime. | Seller Fulfilled Prime (SFP) is a key opportunity to benefit from Amazon fulfillment without FBA fees. Seller Fulfilled Prime is a program where approved merchants use Amazon to collect and deliver products. Benefits include 100% shipping metrics. You have the ability to sell to Prime Customers. |
Amazon's algorithm decides who wins the Buy Box. Price alone is not the only factor. It's common to see a higher priced product win the Amazon Buy Box over less expensive alternatives. That's because the winning seller has managed to combine a number of factors to beat the competition.
Customer Experience and Competitive Pricing
Rules-based repricing combines powerful algorithms with rules that the seller defines. Many potential factors determine who wins the Amazon Buy Box. A rules-based repricer takes all these into consideration.
Competitor rules are based on fulfillment method, feedback score, seller rating, delivery times, stock levels and more. Repricing rules allow sellers to react to price changes and compete on their own terms. Sellers can maximize the profit on each sale, by pricing above competitors, and still win the Buy Box.
Real time repricing means you react instantly to price changes and stay one step ahead of competitors. The fastest Amazon repricing software is hosted in Amazon's data centers to respond to price changes immediately.
---
Get Started with a Free 14 Day Trial of XSellco Price Manager:
Click Here to Start Free Trial
---