EBay is on a mission to make online shopping more fun for its 170 million buyers around the world.
Not only has the marketplace teamed up with Mashable to create "shoppable" content, it also plans to roll out new augmented reality features later this year to offer a more engaging experience.
Buyers aren't the only ones to benefit from eBay's bid to shed its auction-site image once and for all. Shopify store owners now have another option to reach more customers.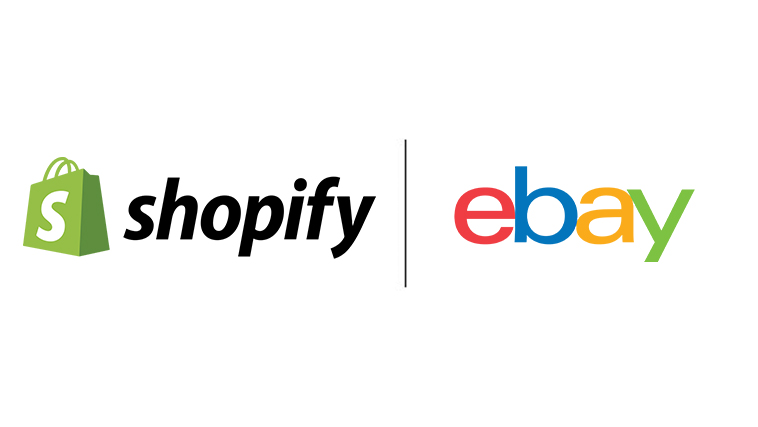 U.S.-based Shopify users can list and sell products on eBay
Shopify's integration with eBay went live in October 2017 for U.S.-based merchants selling in USD (similar to its Amazon connection), enabling them to list and sell their products on the marketplace directly from their Shopify account.
By adding this new sales channel, merchants can instantly sync inventory information such as product titles and descriptions, price and quantity from Shopify to eBay in real time, instead of manually entering it.
In addition, orders placed on eBay are imported to Shopify. This allows merchants to process orders from both platforms in one place. Meanwhile, any messages from eBay buyers will also be visible within Shopify.
How much does it cost?
There are no additional Shopify fees for selling on eBay, but you do need to pay for a Stores account. Monthly subscriptions range from $24.95 a month to $349.95 a month, though the marketplace is offering three free months of eBay Premium (worth $225) to Shopify users for a limited time.
Not sure which Stores subscription suits your business? According to eBay, Basic is best for sellers listing at least 250 items a month, Premium is for those with at least 1,000 items, while anyone listing no fewer than 10,000 items should aim for Anchor.
Shopify takes a percentage of net revenue on every sale you make through eBay, while the latter charges a final value fee on each transaction.

Make the most of this integration with an e-commerce help desk
"The eBay channel has the potential to introduce our merchants to eBay's millions of buyers, exposing merchants to a massive number of new sales opportunities," said Satish Kanwar, Shopify's VP of Product.
EBay boasts 170 million active buyers worldwide, as well as 1.1 billion listings. So it's safe to say that standing out to potential shoppers requires more than trending products and eye-catching images.
Offering great customer service before, during and after a transaction is the backbone of a successful eBay business—and investing in an e-commerce help desk can make a huge difference.
Although Shopify's eBay integration means that sellers can communicate with customers on eBay from within Shopify, more than 60 percent of the platform's merchants sell in two or more channels. Where does that leave multichannel sellers with customer service?
xSellco Helpdesk is purpose-built for sellers, with over 60 live connections to Shopify, eBay, Amazon and many more. We consolidate customer queries and order details from all your sales channels into one dashboard, giving you everything you need to respond quickly.
Most of Shopify's help desk integrations are powered through apps and can experience delays when receiving messages. Not to mention, a bolt-on is usually required for sellers to see customer order information alongside support tickets.
xSellco offers true integration with Shopify. This ensures you have up-to-date, accurate information at all times. Plus, you can track key e-commerce metrics, such as order cancellations and returns so you can pinpoint recurring problems and make improvements accordingly.
Capitalize on customer satisfaction and ask for feedback
Once you perfect the buyer experience, don't let that hard-earned customer satisfaction go to waste. Target positive seller feedback by indirectly asking happy shoppers to leave you a review.
For instance, use a series of carefully crafted and personalized post-purchase messages that address common queries relating to what they bought and include links to your seller feedback page.
Remember, positive feedback drives sales. Turn your current customers into your best salespeople by automating your requests with xSellco and achieve a great reputation with minimal effort.
Ask for feedback on the right products, from the right customers, at the right time. Don't batch-and-blast and hope for the best. Tailor your requests to target orders by SKU, product type, on-time delivery, destination and more—and watch your seller rating soar.
---
Sell more with a connected e-commerce platform
            Sign up for a 14-day trial today. No credit card needed.
---
Read more Shopify tips from xSellco: