How to win the Amazon Buy Box [Webinar]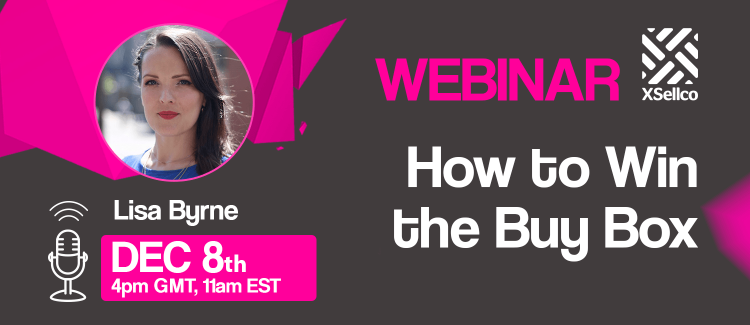 How do the most successful Amazon sellers win the Buy Box?
In our upcoming webinar, eCommerce specialist Lisa Byrne will analyze the essential performance metrics that Amazon sellers need to achieve in order to win the Buy Box.
Sellers need to keep a close eye on their Account Health on Amazon Seller Central to see where there is room for improvement on their performance metrics. A key feature of the Amazon Buy Box is the fact that it is a shared entity – this means that multiple sellers who sell the same product are competing for Buy Box ownership.
Amazon wants sellers to give customers the best possible shopping experience. With that aim in mind, they have enforced performance-based requirements upon sellers that will help them to qualify for more sales. While the Buy Box is shared, if you can maintain a high performance rating with Amazon, and sell at a competitive price, you can win the Buy Box more often than your competitors.
Winning the Buy Box has never been more important for Amazon sellers. Currently, 82 percent of sales on Amazon are made through the Buy Box. Amazon on mobile presents the buyer with only one option to buy – leaving sellers with no other choice but to win the Buy Box if they are to make any sales. With the growing dominance of mobile commerce, the Buy Box is becoming even more significant.
Lisa will break down the Amazon performance metrics and show you how you can achieve best-in-class ratings across customer support and feedback. She will also show you how to optimize your pricing strategy by using the relevant data to inform your decisions.
This webinar will provide Amazon sellers with the direction they need to succeed in their mission to win the Buy Box.
You will learn:
The essential metrics for winning the Amazon Buy Box
Discover what Amazon expects from its marketplace sellers
How to increase your seller metrics
How data will help online sellers make informed decisions on pricing and performance
The future of the Amazon Buy Box
---
Save Your Seat!
---