5 Ways eBay promoted listings could help boost your sales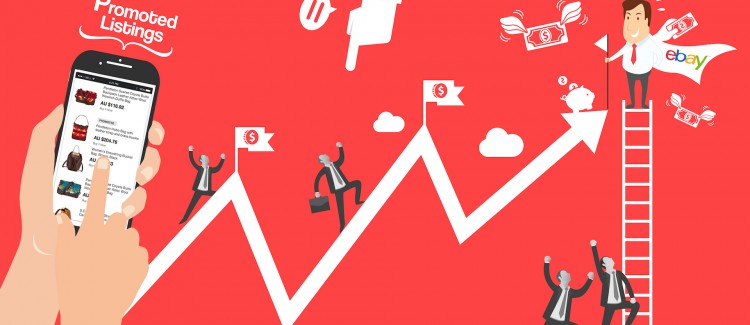 A new paid advertising service, eBay Promoted Listings, is an opportunity to get your inventory in front of more eyeballs.
eBay Promoted Listings are eligible to appear more often in prominent locations – similar to paid search engine ads. Currently, a limited number of sellers have been invited to participate.
Judging by the success of Amazon Sponsored Products which half of all sellers are estimated to use, this new eBay paid service could make a big splash.
Read the five key advantages of eBay Promoted Listings for sellers below.
1. More exposure for your listings
Promoted listings is a new way to increase a product's visibility to more buyers and create more sales.
Higher demand items with better selling prospects can be promoted to more potential buyers. Sales made with promoted listings should also favourably impact your 'best match' listings by driving more traffic to them. It's less effective for unique items like antiques and collectibles, where best match search terms are very specific, and there's far less competition.
2. No sale, no fee
You specify a rate for each promoted item, ranging from 1% to 20% of final sale price. The specified percentage of the final sale price, plus selling and listing fees goes to eBay. You're only charged when a customer clicks on your promoted ad and goes on to purchase the item within 30 days. The amount you pay is based on the rate you'd set at the time the buyer first clicked your ad.
If the item is returned or the buyer doesn't pay, you're eligible for free ad credits. If the item doesn't sell, you don't pay.
3. Super easy setup
The price, image and product description for your advert are pulled from your original eBay listing.
It's simple to promote multiple listings with bulk uploads. Stop or start your ads whenever you want.
4. Targeted campaigns
The factors that dictate where and when an ad is seen are ad rate, listing quality and relevancy. The more you invest in an ad the more visible it is. Competing on popular, high value items in uber competitive categories means bidding more. If you sell products that are seasonal, event-based, or likely to sell on public holidays, give them more exposure with campaigns that you set up in advance.
5. Detailed reporting
Detailed performance data is readily available to optimise your campaign strategies. Your seller dashboard contains:
The number of impressions your promoted ads have generated
Clicks from potential buyers on your ads
The total number of promoted ads that led to a sale
The ad rate for every item and fee you'll be charged
Total items sold and amount earned
Anything that increases product visibility, improves sales and adds to the bottom line has to be a good thing. In that respect, Promoted Listings look promising.
With the ability to easily set up, refine and test campaigns, we hope eBay's new feature is a profitable one for you. Ultimately it has to be cost-effective – and when eBay Promoted Listings have been rolled out for all sellers, you can be the judge of its success.