Inbox filters are one of the many time saving features in your Xsellco Helpdesk. Find tickets based on date and time, and attend to important messages like Returns and Cancellations with the click of a button. Granular filters allow you to instantly access certain types of messages for even faster responses and more efficient workflows.
1. In your Messages dashboard, go to the search box at the top and select the drop down button.

2. Select Add Filter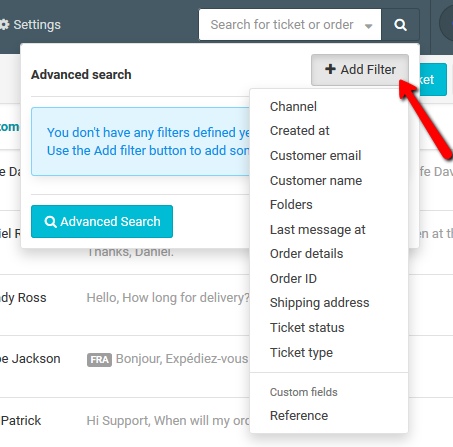 3. Choose how you would like to filter your messages. You can apply multiple filters by selecting this button again.
In the example below, I would like to attend to Cancellations on my eBay and Amazon stores. To do this, I simply select the Channel and Ticket type filters.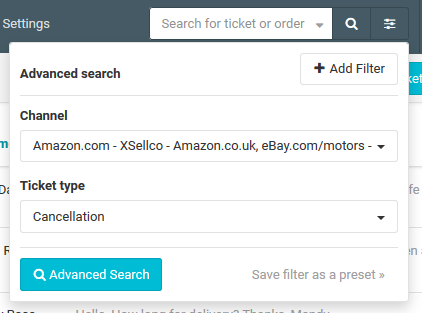 4. Once you are happy with your filter, click Advanced Search.
You will now be presented with the tickets that match your search results.

If you use this filter regularly, you can save it as a preset filter for quick access in future.
Define your filter and select Save filter as a preset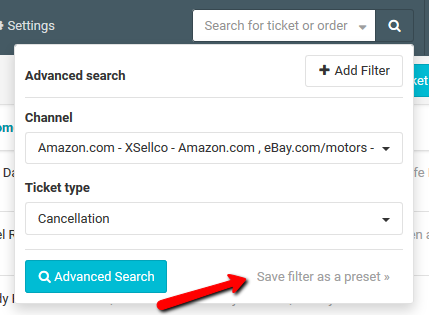 Give your filter a name, and select if you would like to make it public or save it as a favourite. Hit Save Filter.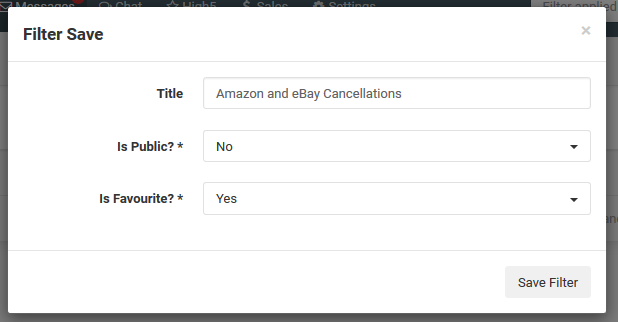 When you need to access your preset filters, go to the toggle icon beside the search bar, and you will see a list of the filters you have saved.
Click on the filter you would like to use and you will instantly be presented with the tickets that match your search criteria.

Got questions on your Helpdesk features? Get in touch with us at support@xsellco.com