An SLA (Service Level Agreement), establishes the period of time in which your agents should respond to tickets. In your Xsellco Helpdesk it's easy to stay on top of your target response times with the SLA counter, which prioritizes tickets based on how long you have left to respond before breaching your targets.

On each of your channels you may have different target response times. For example; on Amazon you have 24 hours to respond, whereas on social media, you may want to ensure agents respond within 1-2 hours.
Setting your SLA targets for each channel
1. Go to Settings > Channels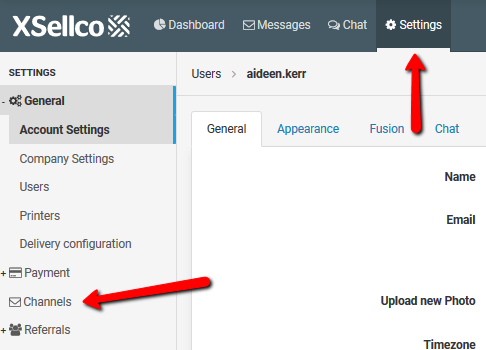 2. In the Channels page, select the channel that you would like to add an SLA target for.
3. Scroll to the Helpdesk section, go to SLA mode.
4. If your SLA target is to comply with marketplace requirements (e.g. Amazon), choose Marketplace specific SLA, if you are setting your own target (e.g. for social media/email) choose Company SLA.
* 'Marketplace specific SLA' means that Xsellco will count every hour towards your targets. 'Company SLA' means that Xsellco will only count the hours that your team is on the clock. Note that the option to set a Company SLA will only appear if you have set your business hours in your Helpdesk settings.
5. In SLA response time, enter your target response time in hours.

5. Scroll to the bottom of the page and hit Save Changes. 
Tickets that are not responded within the targets that you have set will be marked as Overdue in your Messages dashboard.
Viewing Response Time analytics
Using the analytics dashboard, you can get a clear view of your team's average response times on each channel and how often you are meeting or breaching your SLAs.
1. Go to Dashboard > Response Times. 
2. In the main dashboard, select the date range that you would like to view and hit Apply.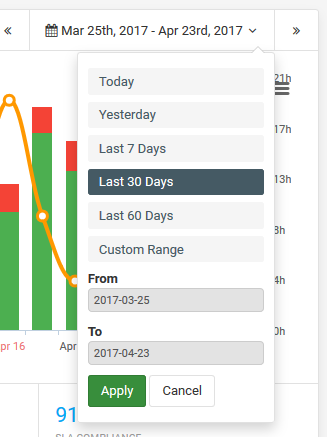 You will now see a breakdown of your response times, SLA compliance per channel, your average overall response time and the length of time it takes to answer queries based on the Ticket type.
Main Response Times dashboard – see your average first response time and SLA compliance per day.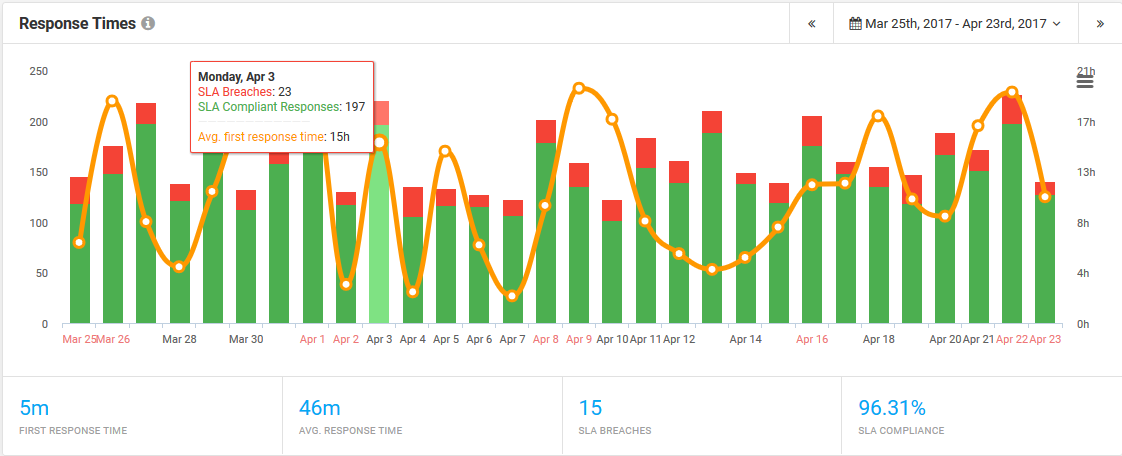 Time breakdown – see the amount of responses broken down by their response times. This is a quick way to see which bracket the majority of your responses fall into.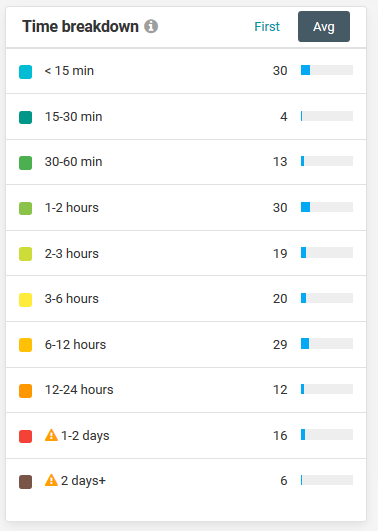 SLA compliance per channels – get a percentage breakdown of how often you have stayed within your SLA targets on each of your sales channels.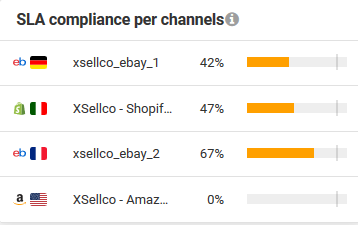 Ticket types – see the average response time broken down per query type. This gives a bird's eye view of which query types are taking the longest to resolve so that you can take this into account when assessing your agents' performance.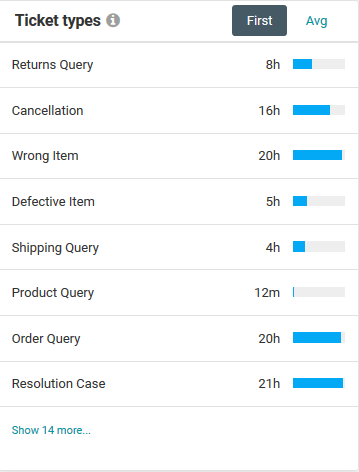 Got questions about your Xsellco Helpdesk features? Get in touch with us at support@xsellco.com.