Repricing series finale – advanced techniques with XSellco's Repricing Inventor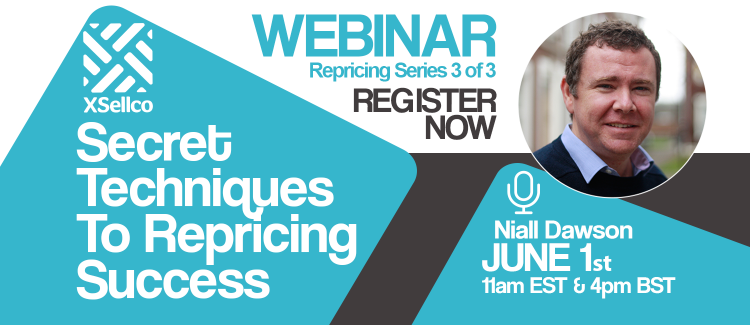 An Amazon repricing strategy is limitless – it can be as powerful as you make it.
Don't believe until you see it? Well that's exactly what we're going to showcase in our upcoming webinar.
Join us on Wednesday, 1 June at 11am EST/ 4pm BST for the final episode of our repricing series.
I will be hosting our in-house expert on Amazon Repricing  – the creator of xSellco Price Manager, Niall Dawson.
He will be exploring real-life repricing strategies and share his insights on how repricing can take your Amazon sales to another level.
Niall will answer your repricing strategy questions and deliver advice on effective repricing for your business.
In this webinar you'll get access to:
Real-life examples of repricing strategies that win the Buy Box
Your repricing strategy questions answered
Insights from the inventor of leading repricer xSellco Price Manager, Niall Dawson.
Q&A session with Niall and myself.
Learn how to unleash the potential of your business with a repricing strategy that's tailored for your business.
Hope to speak with you on Wednesday 1 June! Sign up to the webinar here.