New look, same xSellco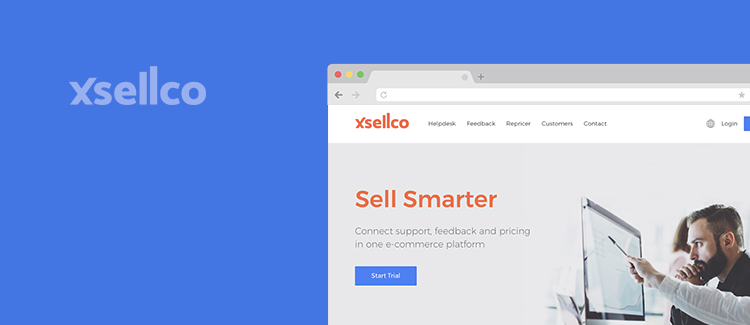 Today is an exciting day at xSellco—our new and improved website goes live! After months spent researching and taking inspiration from our customers and the brands we admire, we have created a look and tone that represents our product and values—helpfulness, excellence and clarity.
In addition to our new graphics, colors and a clean, user-friendly design that's easy to navigate, you will notice that our product names have also changed as part of our rebrand: Fusion, Price Manager and High5 are now under the umbrella of xSellco as our help desk, repricer and feedback software.
If you're an xSellco customer, you probably have some questions about what this means for you. The short answer is that nothing has changed—our commitment to delivering amazing products and support to our customers will stay the same. We did however, want to create a brand that resonated with our customers—one that just says it like it is.
Why did you change the product names?
We wanted to more accurately reflect what our products do.
To illustrate the reason, I have shared an image below comparing the old site to the new. You'll notice that previously, we had to explain what the product was in italics beside the product names.
When asking teammates and our customers, the same question kept arising—why should your product need to explain itself? Now it's obvious at first glance what each product has been designed to do.
What does this mean if I'm an xSellco customer?
Nothing! The good news is that if you are an xSellco customer, it's going to be business as usual. It's just a name change—the functionality of the products has stayed the same and there is absolutely no action required on your end.
What isn't changing with the new xSellco brand?
Here's what's not going to change: we'll continue to be the world's no. 1 e-commerce platform and you can still manage your support, feedback and pricing all in one place.
What will change?
Only two small things. First, you'll notice that when you visit the site, you'll find our new design, which we hope you like as much as we do! You can log in from the same place as usual—the site will simply look a little more polished!
Then when you log into your xSellco account, everything will remain the same—only you might spot our new logo and notice that, in your menu, Fusion is now Helpdesk, High5 is Feedback and Price Manager is simply Repricer.
Welcome to the new look xSellco. We'd love to hear your feedback!