How to handle returns for international marketplaces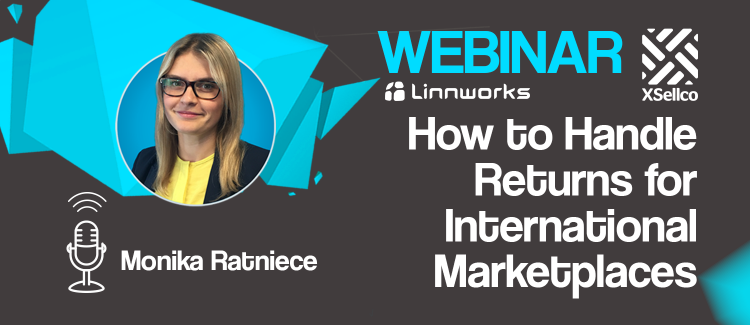 International returns present a significant challenge for online sellers who plan to expand into international marketplaces. In this webinar, xSellco hosts Monika Ratniece, Business Development Executive at Linnworks, who offers advice on how to expand into international marketplaces. Monika shares her insights on how you can effectively manage returns when selling on international marketplaces.
About this Webinar
Learn how you can reduce returns for international marketplaces
Understand the key considerations for handling returns
A deep dive into buying behavior, consumer culture and attitudes towards returns in key eCommerce markets
Best practices and expectations for dealing with international returns on eBay and Amazon
What options are available to you to handle your international returns
About Monika Ratniece
Monika Ratniece is a Business Development Executive at Linnworks. Her broad knowledge of the eCommerce industry enables her to support hundreds of retailers across the globe, helping them to maximise the growth of their business by getting the most from Linnworks, as well as its integrated marketplaces, website platform and shipping providers.
About Linnworks
Linnworks is a leading multichannel solution, designed to help eCommerce sellers reduce their costs, automate their key processes and ultimately grow their business. With over 80 integrations with online marketplaces, website platforms and shipping providers, Linnworks is designed to give you the tools to manage your orders, inventory, shipping, listing and reporting, all from a single screen.
About xSellco
xSellco provides innovative products that allow eCommerce businesses of all sizes to fulfil their potential. xSellco Fusion is the customer support help desk tailored for eCommerce sellers. Fusion speeds up your response time by 46% by centralizing multiple channels into one central system and providing you with powerful time-saving features. xSellco has a bespoke integration with Linnworks that allows you to manage your product inventory, along with your customer support all in the one place.
---
Learn how to handle returns in international marketplaces
---