The challenges of managing support in multiple countries [webinar]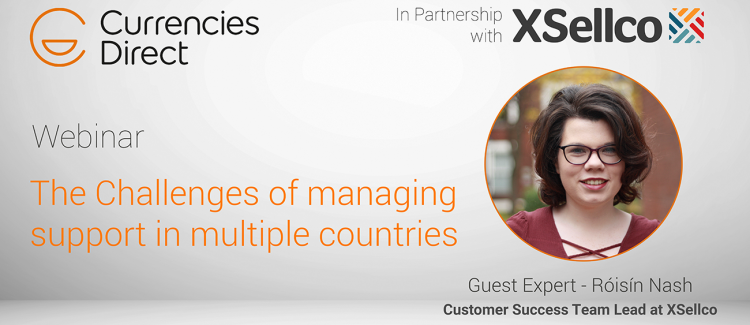 Customer Support teams have to juggle queries from multiple marketplaces in different countries every day.
Customer support teams confront countless challenges when handling queries from multiple marketplaces in different regions. Customers expect 24/7 support, immediate responses and for the agent to know their full order history.
It is essential for businesses to learn how to manage the volume and to provide consistently excellent customer support across all marketplaces.
In our webinar, hosted by Currencies Direct, Róisín Nash, Customer Success Team Lead at xSellco, was invited to share her expertise on these challenges. The webinar covered how online sellers can manage volume, speed up your response time, meet marketplace SLAs and improve your customer support metrics.
About the Webinar
Learn to successfully manage queries from multiple marketplaces
Deal with the 24/7 customer across different time zones
Avoid miscommunication with language and cultural barriers
Understand customer expectations and how they can be fulfilled.
Identify key metrics to measure agent productivity
About Róisín Nash
Róisín Nash is a customer success expert with an intuitive understanding of how customer expectations and business objectives can be successfully aligned. Róisín informs companies on how they can empower their agents to manage queries across multiple marketplaces and channels. Róisín believes that listening to support agents' customer insights will inform all aspects of the business and increase revenue
About xSellco
xSellco provides innovative products that allow eCommerce businesses of all sizes to fulfil their potential. xSellco Fusion is the Customer Support Helpdesk tailored for eCommerce sellers. Fusion speeds up your response time by 46% by centralizing multiple marketplaces and channels into one central system.
About Currencies Direct
Currencies Direct work with thousands of online sellers, helping them to grow in overseas markets with simple and cost-effective foreign exchange solutions. Currencies Direct Collection Accounts allow you to collect foreign currency sales from marketplaces like Amazon and maximize profits.
---
Learn how to manage customer support in multiple countries:
---